Mission
On the verge of the Age of Data, the world is changing at a rapid pace. This change, being fundamental in nature, is full of opportunities and risks. VDSG was founded in 2015 with the goal of establishing a platform for knowledge exchange between data professionals from research and industry, data enthusiasts and other interested parties, thus enabling them to seize opportunities and help understanding better the risks lying ahead.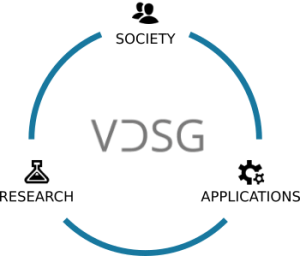 Activities
Our activities are all about knowledge sharing and networking, guided by VDSG's charitable objective: the promotion of data science. As such, we
grow a network of data scientists and companies,
collaborate with like-minded organisations,
organise public events such as talks and hackathons, and
organise workshops and offer neutral consultation to companies and other organisations.
All of this we do pro bono, motivated by our passion for data science, our strive for knowledge gain and our firm believe in the huge impact of data science on our lives and society as a whole.
If you feel this is something for you, please, don't hestitate and contact us